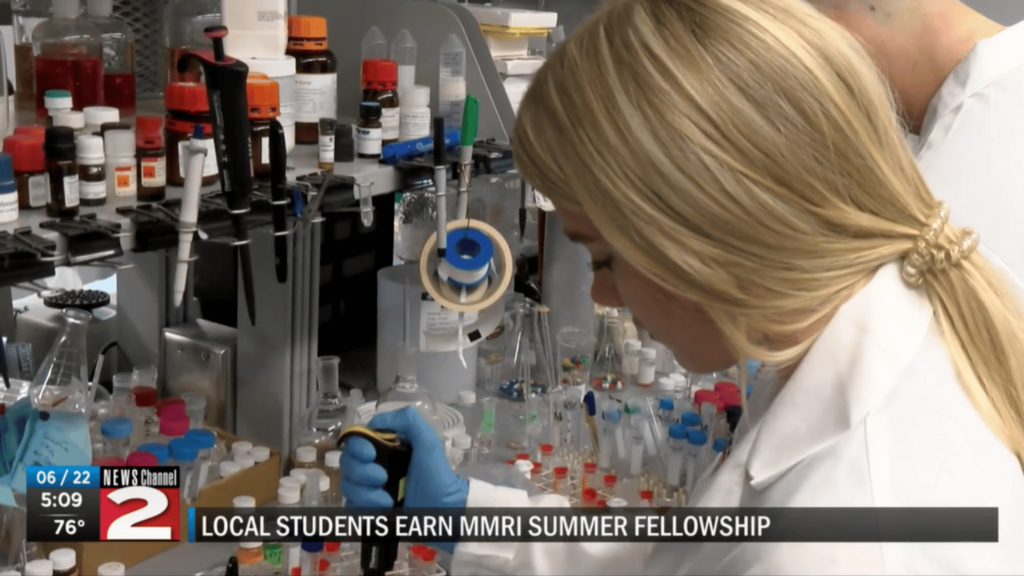 June 22, 2022
Undergraduates in MMRI's Summer Fellowship Program were interviewed about their experience by WKTV, an affiliate of NBC, CBS, and The CW Plus. The Summer Fellows are outstanding college students who are given the unique experience to work in the preeminent biomedical lab of Central New York, Masonic Medical Research Institute. 
Click the link here for the video clip from WKTV: 
https://www.wktv.com/video/local-students-get-summer-fellowship-at-mmri/video_ebfb9d32-bd9c-55c9-aa0f-a830ff23767d.html
---
Video Transcript: 
WKTV Host Jason Powles: Some local students will be spending their summer trying to help us all live longer and in better health. They were chosen from a highly competitive summer fellowship at Masonic Medical Research Institute in Utica. New 10's Joleen Ferris reports.
WKTV Reporter Joleen Ferris: What are you doing with your summer?
"My project this summer is exploring the effect of different thyroid hormones on brown fat tissue in attempts to hopefully find ways to combat obesity," says Binghamton University Integrative Neuroscience major, Gianna Sisti.
While many of us get fired up for fair food, like cotton candy, corn dogs and funnel cakes, Gianna Sisti, will be taking part in research aimed at keeping us at a healthy weight. She's one of 10 summer fellows, chosen by the Masonic Medical Research Institute, in Utica, for a 10-week project.
Ryan Soron is another summer fellow. He's working on turning self-renewing cells into cells that are in the heart.
"You want to work on things not on a living person. You want to make sure it's safe before you move into in vivo," says Soron.
Textbooks and their lessons are important, but this real-life lab experience — priceless, to a biomedical engineering student.
"In the classroom, you learn about different technologies and scientific techniques, but you're not really getting to practice them. So, I think this internship is great because you get to get into the field ahead of time and know what you're doing so that way when you eventually get to a job, it's a lot easier," says Soron.
This summer was especially competitive, as the Institute saw its greatest number of applicants for the summer fellowship in their 64-year history.
"When I was trying to reach out, I was thinking maybe I'll get a few people," said Dr. Khanh Ha, of MMRI.
A pleasant surprise for Dr. Ha, who supervises the student fellows.
"The major goal here is to educate them and trying to get them getting more involved with research and that's the value of it. And the outcome of it is their skills, their knowledge, their experience in the lab," says Dr. Ha.
It's that experience for which these budding scientists are so grateful.
"I would say it's really great to have access to, first of all, the hands-on experience and get access to the great minds of everyone around here and I'm learning so much and it's really cool to get to learn the lab procedures but also the ground-breaking science that's going on here. It's a really great experience," says Sisti.
The fellowship will end on July 29.
---
Summer Fellowship at MMRI  
The Summer Fellowship Program, initiated in 1960, provides an opportunity for students of biology, physiology, molecular biology, chemistry, medicine and other life sciences to participate in research under staff guidance. The ten-week program is designed to educate, instill scientific curiosity and guide our youth in making their career decisions. The program is open to undergraduate, graduate and medical students. 
Read more about the MMRI Summer Fellowship, here:  
https://www.mmri.edu/summer-fellowship-program/